Starting to learn about slot variance, but not sure where you fit as a gambler? Whether a beginner or an expert, knowing the kind of games you love to play is important.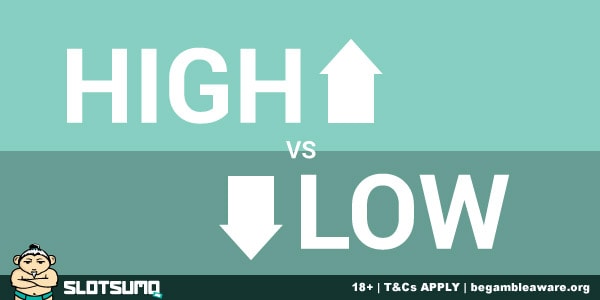 Whether you're slot-savvy or an iGaming novice, there's an online slot for you at Slotsumo. You may have heard the terms "high variance slots" or "low variance slots" before and wonder what they mean.
These are the same as saying a slot is high or low volatility – different term, same meaning and it both affects budgets and gameplay.
If you've ever wondered where you fitted in as a gamer and what type of slots suit you best, this is the post for you.
The battle of high, low and medium volatility slots
Every online slot has a basic method of gameplay. The number of reels or paylines may vary, but the outcome is the same.
Pay more and play for longer, and you might even out your winning. Risk too much too early on and you may exhaust your budget too quickly.
20 Free Spins + up to €300 Bonus
Get 100% up to €300 in bonus on your first deposit plus 20 free spins on sign up at Casumo Casino
18+ New customers only. Wagering and Full T&Cs apply.
But how quickly your budget goes and how much you end up winning is down to volatility (the risk), hit rate (how often it pays) and house edge (how much it pays). In this casino blog post, we will concentrate on the first – the risk.
You might like: Check out our best high variance slots.
A quick look at the house edge or RTP
How you choose your slot variance depends on your personal playing style. Remember, with every slot, there is a "house edge", i.e. the advantage the casino has over you, the player. This will be written as a percentage, usually 5% to 2%.
It is in fact, no different to the online slot Return to Player Rating. This is also a percentage but written from the other perspective – ie. the advantage the player has over the casino and is the average amount you'll win relative to how long you play. This is around 95% to 98% for most slots.
The long run, we should point out, is over millions of spins. So don't expect to €$£10 and win back 9.40 to 9.70. Someone else may get your winnings, and how a slot distributes those wins is down to volatility.
The volatility rule
When it comes to choosing slots to play online, remember the volatility rule. High risk means high reward but you'll probably walk away empty-handed, Low Risk Means low rewards, but you'll probably walk away with something in the bank. The words to focus on there is 'probably'.
So, which kind of player are you? Let's find out.
The high stakes big win gambler
If you're a high stakes player, chances are, you've been playing a while. You'll have plenty of patience and the budget to go with it.
High volatility slots work best for players who are willing to invest their time. They don't pay out often, but when they do, the cash prize is likely to be much higher.
So, what's in it for you? High variance slots can reward up to 5,000 to 10,000 times your original stake. That's something you're more likely to see with progressive slots, so take them seriously! (Progressive jackpots increase every time the game is played and not won.)
It's also more exciting. You'll have the time to plan your next move and can plan a slot machine strategy with your budget.
How to win big on high variance slots
Do not disrespect the high volatility slot. This is a game of patience. Set your budget and be prepared to walk away when you've hit the jackpot or once your budget runs out. Know not to chase your losses.
Don't be disheartened by the lack of slot bonus games or instant rewards. These are all building up to a much larger cash prize.
Likewise, don't blow your budget all at once. There's no need to place the maximum bet unless it says so, so gives yourself a maximum budget for every round of spins. Spread your funds wisely to make the most of your playing time.
Remember to walk away
High variance games will need a high bankroll, so once you've won, walk away. You can set yourself a time limit or reminders to make sure you don't overstep the mark.
It's very easy to think you should keep playing with your winnings to hit another big win, and then walk away with no winnings at all.
The fun-loving low-risk gambler
If you're more of a casual or novice gambler, low volatility slots like Starburst are perfect for you. They keep that dopamine firing with regular payouts and bonus rounds, but they don't break the bank.
These are great for a quickfire round of slots on a minimal budget. You'll get a number of payouts in a small amount of time, but they won't be huge.
That's not to say that low variance slots aren't exciting. While there's not as much of a strategy, you'll enjoy the rapid wins one after another and some have a big top win you could still win.
How to play low volatility slots
Don't expect huge rewards with low-risk slots. This is all about fun. Make the most of the bonus games, and make small bets to help low budgets go further.
When comparing high and low-risk slots, it's best to think of it this way. A high volatility slot could take you up to a huge in-game jackpot win, or back down to zero, very quickly.
A low volatility slot may get you down to zero eventually, but it will take a longer time as it gives you rewards little and often.
Remember:
High variance: long gameplay, high budget, higher and less frequent rewards
Low variance: short gameplay, low budget, lower and more frequent rewards
Medium variance slots: the elusive third option
In theory, if you're playing for long enough, you could make the same amount of money on both high and low variance slots.
Let's say you've had 49 spins in a row on a high volatility slot, only to win €$£50 on the 50th spin. On the flip side, you could win €$£1 for every spin after 50 spins with a low volatility slot. It's all about knowing your budget and your time limits.
Up to €$1200 Bonus + 200 Free Spins
Get up to €$1200 Bonus Money + 200 Free Spins at LeoVegas
18+ New customers only. Wagering on bonus and free spins winnings applies
So what if you're not an expert and not a beginner?
Enter, medium variance slots. These are a convenient best of both worlds. They pay out more often than a high volatility slot, but they're not so high risk that you could blow all your budget quickly.
Many medium volatility slots can sometimes be classed as "medium to high" or "medium to low". Play with caution if you're a true beginner, in case they don't end up rewarding you as often as you'd like.
Top tips for gamers
For more seasoned gamers, you should try mixing up a variety of low, high and medium variance slots. See which method of gameplay you like best – calm, cool and collected with high rewards, or quickfire madness with minimal spend.
You should also do your research. Some slot games aren't so transparent about their volatility, so play with a small budget as you get to know the games.
If mixing it up is too risky for you, go low variance as a beginner and high variance as an expert.
The best slot games for all variances
Want to keep it interesting? Find more games with our online slot directory at Slotsumo.com.
Try Your Luck at Casumo »
20 Free Spins on Sign Up + 100% up to €300 First Deposit Bonus at Casumo casino - T&Cs Apply 18+ New Players Only