Slot games featuring bonus games are some of the most popular among gamblers online and for a good reason. They bring with them excitement and different ways to win to help you increase your bankroll.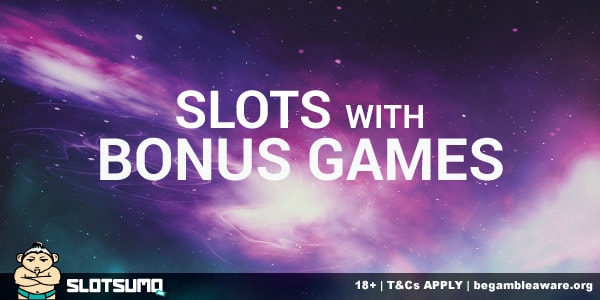 There are many different types of bonus rounds that you can find within online slots.
Some are more thrilling than others, and some contain special bonus features within the mini-games themselves that create more opportunities to win.
Here we won't be talking about walking wilds, reel re-spins, expanding wilds, or wilds that act like scatters, these to us are all features that you can find in slots but not bonus games in themselves.
If you want to find out more about them, we have a complete glossary of slot terms explaining each one in detail.
What we will talk about are free spins, pick me bonuses, multiplier trails, and jackpot wheels, all of which can also be called features, but these games typically take you away from the standard reels and into a different area.
Free Spins Bonus Games
One of the most popular types of bonus rounds in slots and the one that attracts players the world over are free spins.
Not to be confused with free spins casino bonuses you can get from signing up to a casino (like Casumo Casino), these are the free spins you get as a feature within the game itself.
A free spins game offers you the chance to spin the reels at the same bet at which you triggered them with for a specified number of spins.
This effectively gives you 'FREE' bets where you often win back at least something during your spins but could win you hundreds or even thousands of times your bet depending on the game.
It has to be our number one slot bonus that you'll find in many of your favourite slots, and every slots developer will have a video slot in their catalogue that has this feature.
What makes them all the more exciting though is not only the free bets but also that they usually come with extra features including special wilds, multipliers, expanding reels, more ways to win, the list goes on.
Our best slots with free spins include:
The Pick Me Bonus
Next up we have another bonus game which is popular among developers and players alike, especially in the older generation of slot machines from the likes of NextGen Gaming.
Pick me bonuses can take you to a different screen where you have a choice of boxes, treasure chests, coins, or other symbols relating to the slot's theme to 'Pick' from.
Once clicked, the chosen symbol will reveal an instant cash prize, coin prize, or bet multiplier.
These games can reward you with anything from 1x your bet up to 500x or more, depending on the game, show up more frequently than the free spins and give you quick rewards within a few clicks.
They are easy for software providers to integrate into their games and give players some quick win gratification that helps top up the casino balance while you wait for potentially better bonus rounds to show.
Our best slots with pick me bonus include:
Medusa from NextGen: A simple pick me bonus where you can win up to 50x your bet
Secret of the Stones Slot from NetEnt: Pick from 20 stones to see how many free spins, multipliers and extra features you get in your free spins. A game within a game.
Megadeth from Leander Games: Pick from prisoners to find the female one and win up to 90x your bet
Multiplier Trail
One bonus that doesn't show up in many online slots is the Multiplier Trail.
Made famous by the Leprechaun filled, Rainbow Riches slot from Barcrest find the right number of bonus symbols in the base game, and you'll be swept away to a different screen featuring a trail full of multipliers.
Each step along the way from the start of the trail to the top and the biggest multiplier prize is clearly shown.
The way they work though can differ between slots, but usually it's you spin a wheel to reveal the number of steps your character moves along the trail, each step along the way revealing bigger multipliers.
If you land on an end game spot or run out of spins your game ends and you return to the main game with your total bet multiplied from the cumulative multipliers you found during the trail round.
They can be a breath of fresh air from spinning the main reels and often reward between 1x and 500x your bet, with an average win being 10 – 20x.
Our best slots with multiplier trails include:
Jackpot Wheels
Rounding off our list of slot bonus games are Jackpot Wheels. This is a special type of game that you'll only find within slots with jackpots like Mega Fortune from NetEnt and Mega Moolah from Microgaming.
They can be triggered randomly, by finding the right number of bonus symbols in the main game or however, the provider has thought up a new way of doing so.
When you've met these criteria you then get taken to a Bonus Wheel which not only contains chances to win jackpot prizes (1 or more) but also instant cash prizes too.
How they work is pretty simple. Take the Mega Fortune Dreams Jackpot Wheel as an example. You have three outer wheels featuring progressively bigger values the further to the center they go with the center containing the Mega Jackpot.
You spin the wheel if the marker lands on an arrow you progress inwards by one wheel where bigger prizes or the smaller jackpots await. Land on an instant cash prize at any point and the bonus game ends with you winning that prize.
These types of games especially ones with multi-million jackpot prizes get the heart beating faster, palms all sweaty and even though don't usually end up in a huge jackpot win still bring you thrills for even a small amount of time.
Our best slots with jackpot wheels include:
Mega Fortune by NetEnt: Potential to win 3 jackpots from thousands to millions
Mega Fortune Dreams by NetEnt: Same as Mega Fortune but usually, with smaller jackpot prizes as it hits more often
Mega Moolah by Microgaming: Random jackpot game can trigger at any time and gives you the chance to win one of 4 jackpot prizes
Free Bets, Instant Wins, and Big Jackpots
These are what makes slots machines with these games popular.
Any game can contain a combination of one or more of these along with extra bonus features that can reward you with wins over 5,000x your bet or more depending on the game.
It makes a game more exciting, more rewarding, and potentially, life-changing, and isn't that why we play slots for real money? For the fun of the game while being entertained with the chance to win more than you put in.
Try Your Luck at Casumo »
20 Free Spins on Sign Up + 100% up to €300 First Deposit Bonus at Casumo casino - T&Cs Apply 18+ New Players Only