Curious as to how game developers keep you spinning, or why some people hate progressive jackpot slots? We break down all the secrets no one wants you to know.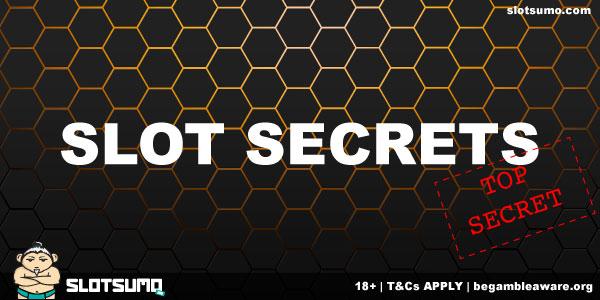 If you're even the slightest bit familiar with the slot machine world, you'll no doubt have heard all the myths that circulate. Some payout at certain times of day, some stop paying out after the jackpot – these untruths have no place in the online slot world.
For starters, slot machines are operated by random number generators. This means that every outcome they produce is in fact totally random – it's independent of how many people have won or lost that day, where it's positioned in the casino, or what time of day it is. The same applies to online slots.
But now we've dispelled the slot myths, what about the secrets? There's a key difference here – arm yourself with these little nuggets of information and you might just change your whole playing strategy.
If you're looking to win bigger prizes or just take your stake further, keep these little slot secrets and tips in mind.
1. Watch out for the sound effects
One oft-cited piece of advice about casinos concerns their environment – and this one is true. If you've ever been to a land-based casino, you might notice that there are no windows or clocks. Meanwhile, the music tends to be one long continuous stream rather than recognisable songs.
These are all to create the illusion of timelessness – music, with its peaks and troughs, reminds us how long we've been playing, while windows and clocks indicate the time of day! This strong emphasis on psychological effects has carried over into the online casinos world.
Get up to €$100 Bonus + 100 Free Spins
Get up to €$100 bonus cash in the GUTS bonus with 100 wager free spins on top
#AD 18+ New customers only. Wagering and Full T&Cs apply.
That's why you need to be so careful when you play online. Video slots tend to rely on bright graphics and sound effects. These little animations can trick you into thinking you've won more than you have, or give you the illusion of excitement when nothing much is happening.
They might also flash up messages like "mega big win" when it is, in fact, not that mega – so always keep an eye on your winnings and your bankroll!
2. Paytables bonuses don't always need triggers
Potential slot bonuses are right there on display in the bonus paytable. But don't think you have to wait for hours to line up those wild symbols or other triggers.
These bonuses don't always need a trigger – sometimes they can just appear at random (though the prize will probably be smaller). The jackpot mini-game in the Mega Moolah slot happens totally randomly on any given spin.
However, you should almost always read the paytable thoroughly because there's no point waiting for a feature that won't pay much, or symbols that pay little or nothing.
If you're looking to withdraw quickly, keep an eye on the paytable.
3. Progressive jackpot slots are incredibly difficult to win
Perhaps one of the more controversial slot machine secrets exposed by us, this might not be too popular. The lure of progressive slots is almost too much for gamers. Play long enough and with enough players, and you could just land yourself seven-figure sums.

Of course, this doesn't happen very often. In fact, if you're playing on a multi-million-pound progressive slot, the chances are it will pay out four or five times per year. Meanwhile, thousands of players will play every day. You do the math.
But all is not lost. You can still get your hands on some pretty tasty jackpots. For example, it's far more likely that you'll bag the top win of 5,000 times your bet on the Siberian Tiger Megajackpots slot.
That said, progressive slots have a lower RTP than normal jackpots, namely because a slice of your bet goes towards feeding that jackpot.
4. There is no such thing as skill slots
We refer back to the beginning of our slot secrets revealed: everything is random! Some game designers may encourage you to feel as if their games, require a greater degree of 'skill' than others. They'll do this with nudges, holding reels, even rolling a dice.
They like to give you the illusion of control, for example letting you choose your bonus feature – but most of these results are predetermined.
Instead, stick to a strategy. For example, low volatility slots are better for quicker games and smaller returns, while high volatility slots need you to play for longer to win big.
You should also look at statistics like return to player rate, which are an indicator of how much you're likely to win.

5. Past payouts have no bearing on how much you will win
Again, we refer back to those famous slot machine myths. This particular myth is embedded in the age-old theory of "loose", "hot" and "cold" slots.
Some speculate that casino operators can "loosen" or "tighten" machines to govern how much money they will ultimately payout. In theory, this could be related to how much the machine has paid out.
Licensed and honest casinos have no power to do this. For starters, licensed gaming providers are regulated by organisations like the UK Gambling Commission, The Malta Gaming Authority, or The Swedish Gambling authority, to name but a few.
They can't simply bend machines to their whim. In order to remain compliant, operators use machines with random number generators that test all their games every day and every month, so it doesn't matter if a machine has paid out once or 1,000 times. Your chances are just as good as everybody else's.
Now you know the top 5 secrets of slot machines, go ahead and play with a little extra savvy – it could just pay off.
Try Your Luck at LeoVegas »
up to $400€ in Welcome Bonus Offers at LeoVegas casino - T&Cs Apply 18+ New Players Only