Think you've read a magical strategy to winning on slots? Suspicious that it was the time of day that made it so you lost? Read our most common myths and get some perspective.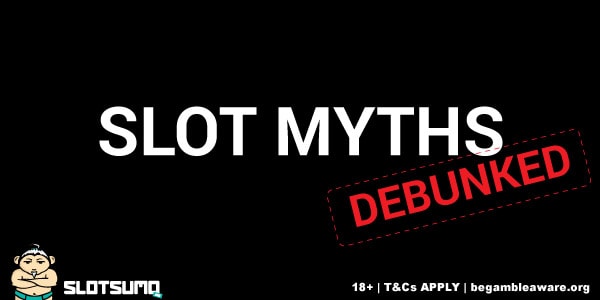 We've heard them all before. The myths and legends about the tough guys walking away from the casino with an effortless six-figure sum because he wore blue shorts on a Sunday.
Indeed, this can happen from time to time, but there's no magic to it – just luck.
And whilst what you wear won't harm your gameplay, we've found the 7 most common slot myths and debunked them so you're not tempted to play or not play according to hearsay.
So next time you're down on your luck and convinced there's something up, remind yourself of these little slot machine myths.
1. The time you play affects how much you'll win
It's easy to see why this myth might have come about. With more of us visiting land-based casinos on weekends, we might think that casino operators 'fix' machines to pay out less at these times.
Conversely, we'd assume that the same slot machines payout more during the week, or at quieter times of the day when they're looking to get the punters in.
We'll make this easy: time does not matter. All slot machines contain random number generators, as enforced by the authorities like the Gambling Commission to ensure they are fair. Therefore, it doesn't matter what time you play – you're just as likely to win on big progressive slots as you are to win nothing at all. Time of day does not come into it.
2. Progressive jackpots can 'burst' at certain times
Slot myths around progressive jackpots are self-explanatory. As more players take part, the final jackpot gets larger and larger.
This would make us inclined to think they're going to pay out big at a certain time. Likewise, we might think they're not going to pay out if they've just awarded a huge jackpot.
While the jackpot does 'progress' with more players, there's no set time for it to payout. Again, this comes down to random number generators. If you're really lucky, you could hit two big wins in a row. There's no way of predicting this.
Yes, there is a 'top win average' on most jackpot games. As we investigated when we wrote the Hall of Gods slot review tends to hit around 4/5 million, but it's paid out 1 million and 8 million enough times for that to be, at best, a general hint but hardly a pattern.
20 Free Spins + up to €300 Bonus
Get 100% up to €300 in bonus on your first deposit plus 20 free spins on sign up at Casumo Casino
18+ New customers only. Wagering and Full T&Cs apply.
3. Land-based slots pay out more
With all the glitz and glamour of a land-based casino, we might think we're more likely to win than if we were to gamble online.
However, modern-day slot machines have changed. They're now more advanced and use the same random number generator technology as their counterparts.
This means – you guessed it – random wins. In fact, it's likely you'll pay out more playing in an online casino when you factor in drinks and travel.
4. Betting with higher stakes means you could win more
There's a bit of a science to this one. Slot machines come in three basic formats: low volatility, medium volatility and high volatility. Lower volatility slots mean you can play with lower bets, and you may win more often, but the prize isn't as high. These are good for low-risk, quick games.
Higher volatility slots need more strategy. You have to put time in and play carefully, after which you should have a bigger reward (if you've played long enough). However, that doesn't mean that ploughing in more money will instantly get you more wins. Everything is random, but some machines are riskier than others and need more patience.
Don't go throwing your money into a high-risk slot without a strategy. Games with multipliers could give you bigger rewards, but there's no guarantee these multipliers will come up.
5. Using the autoplay feature pays less than clicking spin manually
This is perhaps one of our favourite slot machine myths! The autoplay feature is there to save you time, particularly for games like tournaments.
It does not mean you'll win less money. The only drawback is that there's no scope for human intervention.
For example, if you want to change your bet, check your bankroll or just cash out, it's not as easy. Play autoplay with caution – keep an eye on your funds at all times.
Up to €$1200 Bonus + 200 Free Spins
Get up to €$1200 Bonus Money + 200 Free Spins at LeoVegas
18+ New customers only. Wagering on bonus and free spins winnings applies
6. 'Hot' slots pay out more than 'cold' slots
This one's similar to the time of day or the progressive jackpot slot myths. Some players like to call slots that haven't paid out in a while 'hot' slots, and think they're due a win.
Again, thanks to this balanced technology, there's no such thing as hot and cold!
For a more strategic approach, look at statistics like the Return to Player rate. This is a percentage and tells you how much you're likely to win over time.
For example, if you bet £10 at 97%, statistics show you'll win back £9.70 in the long run. It's worth playing on high RTP slots.
But the long run could be a million spins, and someone else could be spinning and playing €10 and win €19.40 and they've gotten your share. It's not as simple as just spinning and waiting to get your money back.
7. Online slots are rigged
No, no, and no again! The Gambling Commissions (From the UK to Sweden, to Malta) takes this too seriously, so there is no way an officially licensed online casino operator could rig slots.
The only exception, of course, is if you play on unregulated casinos. Then there's nothing we can do other than advise you to find a regulated online casino to play.
Just like casinos can't rig the machines for their customers, online slots are not out to get you.
Rather, their results are random, but you can play strategically on different volatilities to get your money back. Take a look at our slot reviews to find the best game for your approach.
However, you play, remember to be wary of your time and budgets. Online gambling is supposed to be fun, so put these myths to bed and play mindfully.
Try Your Luck at LeoVegas »
up to $400€ in Welcome Bonus Offers at LeoVegas casino - T&Cs Apply 18+ New Players Only