If you're new to the bright and enchanting world of online slots, you're probably a bit baffled by the numbers. Beneath the alluring gems, cherries and fantasy-themed reels, there are also a few facts and figures to sink your teeth into.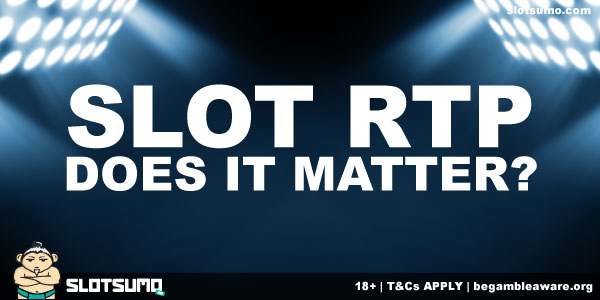 One of these is what's known as a slot RTP – or slot return to player rate. This is what defines how much a slot machine will pay over its lifetime.
Get your head around this, and you could just be on your way to a few more strategic wins.
What is a slot machine RTP?
You've probably heard of the phrase "the house always wins". With slot machines that is no exception.
Every casino game, whether it's in-house or on a gaming website, statistically has the house edge in its favour. But it's not as big an edge as you might think.
In Blackjack, one of the most profitable casino games around, the RTP is 97% in your favour, for example. In slot machines that number is around 95% to 97%.
So just because the online casino has a slight edge, that's not to say you should stop playing altogether – rather, you should pay attention to the specs of the game and adjust your strategy.
How the RTP works:
The return to player rate is measured as a percentage. It is essentially what percentage of your bet you will win back, so it's virtually always less than 100.
Let's say you bet $€£10 – 100x 0.01 bets on a slot machine. Statistically, you'll win back a percentage of this. If the return to player rate is 97%, for example, you'll win back €$£9.70 over time, and the casino will keep 0.30 in their pocket.
Up to €$1200 Bonus + 200 Free Spins
Get up to €$1200 Bonus Money + 200 Free Spins at LeoVegas
#AD 18+ New customers only. Wagering on bonus and free spins winnings applies
If you've played casino, even for a night, you'll probably raise your eyebrow and tell us that when you walk in with 10 in your pocket, you don't walk out with 9.70 each time.
Because, of course, that's not accounting for myriad factors, including progressive slots, bonus rounds, high and low volatility slots, or just plain luck. Because the RTP of a machine is calculated as a value of its lifetime – over billions and trillions of spins.
More importantly, it redistributes this RTP to players in a far more volatile way. So 10 players will walk away with nothing, and then player 11 will walk away with an extra £€$97 in their pocket.
In a sense, it's what makes casino games fun: that thrill of chasing bigger wins, all whilst playing a captivating game of chance. Meanwhile, it's also what allows casinos to pay wages; knowing that in the long run, they get that 3%.
So, how can we use the return to player rate in our favour?
Finding the best RTP slots
Generally speaking, you're looking at an average of around 95 to 97% RTP for most online slots.
However, some of these can vary over longer time periods, dipping as low as 80 and then rising to over 100 (statistically speaking, not in general!) but you would have to be prepared to play the long game.
For the best RTP slots, try these:
Mega Joker
NetEnt's Mega Joker slot takes the lead with an eye-watering 99% RTP. It's also renowned for paying out huge prizes – just ask Simon, who cashed out on a very appealing £18,000 prize. The tradeoff? You have to be willing to bet all your wins back in the Jokerizer mode.


Pirates' Charm
In close second with 98.5%, the Pirates Charm slot takes users through more than 200 ways to win, so there's a big chance you'll cash out big. You can also start with bets as small as 20p, allowing for all kind of budgets.

Goldilocks and the Wild Bears
Who doesn't love a modern twist on an old school classic fairy tale? As we write in the Goldilocks and the Wild Bears slot review, this offers just shy of 98% RTP, with a medium volatility rate that makes it perfect for gamers just starting out who want bigger prizes. (We'll cover volatility below.)

Egyptian Rise
Another one that's teetering near the 98% mark, the Egyptian Rise video slot takes the best of those classic Egyptian Themes in this brightly coloured slot. Again, we have 243 ways to win here, as well as free slot bonuses, so give it a go if you love Pyramids, Pharaohs and riches.

Bork the Berzerker
We all love a good game protagonist – especially one who's like a bull in a china shop. The Bork the Berzerker slot has an RTP of just over 97%, and also features fun bonuses like expanding wilds and brilliantly funny graphics. You can place a bet from just 10p.

What other stats should I look out for?
Stats, specs, features – whatever you call them, there are fundamental differences between slot games that will affect your gameplay. Having a high RTP means nothing if you have a crappy paytable, boring bonuses, or are just not having a good time.
Here's some other things you need to take into consideration:
High and low volatility slots
These will affect how long you play the game for, and how much you spend. A low volatility slot will pay out more often, but the pay-outs will be small and frequent. You may also be able to start with a smaller wager – great if you're a beginner.
High volatility slots, meanwhile, are for those on the next level – which is mostly what you'll find here at Slotsumo.com. We don't write low variance reviews, unless they have a jackpot, instead, we prefer medium to high variance as they give us that big win thrill.
Get 11 Free Spins + up to €$200 Bonus
Try Videoslots casino with 11 Free Spins and up to €$200 in bonus money on your first deposit
#AD 18+ New customers only. Wagering and Full T&Cs apply.
They require a greater degree of strategy – the rewards will be worth it as they award huge bonuses, but you'll have to be prepared to wait for your prize or even walk away empty-handed.
Of course, you can have the best of both worlds and starts with a medium volatility slot such as the Machine Gun Unicorn game with an RTP of 97.187%.
Minimum and max bet
Always keep an eye out for what the minimum bet per spin, as well as the increments you can move up if you wish to. Some people prefer to set this manually and may change their wager amount for each spin, increasing as they win, or decreasing as they lose.
Others use autoplay on a singular bet level, but you should always keep an eye on your spending, or make the calculation of how much you'll spend over those 10/20/100 autoplay spins.
Only ever bet amounts that you're comfortable with – whether that's 0.10 or 100 a spin. Don't be tempted to bet more to try a new machine just because 'it looks cool'.
There are thousands of slots out there, you can find your perfect game using our advanced search tool, in the home page, under the search bar.
You can search by betting level, volatility, theme or even RTP.
Bonuses and paytables
Look out for features like wildcards, free spins and other games within a game. These can all affect your winnings, but always look at your bankroll to make sure you're not too drawn in by the bonuses.
90% of the reasons why people read the paytable of a slot, but then they miss the most important part – the actual value of the symbols. We tend to look at the top 4 high paying symbols and figure out how much we'd get for a 4 or 5 of a kind win, and see if it's worth our while.
Then we look at paylines.
Paylines and bonuses
These concern how many different ways you can win – it's all about the sequence of matching symbols and how they appear on the reels. The more paylines or ways to win you have, the less the value of the paytable symbol. A 9 payline slot should have really strong 5 of a kind wins, or big multipliers somewhere.
Megaways slot machines can afford to have small pay 5 of a kind wins because you are looking to get up to 117,649 ways to win with one symbol. So the paytable may not look as generous, but with those paylines and the bonuses, it makes it worth your while.
Ultimately, it's up to you how you choose to play, but as the old adage goes, only bet what you can afford to lose. It's good fun, but always remember to gamble responsibly, and to gamble smart.
Try Your Luck at Videoslots »
11 Free Spins + 100% up to €$200 Bonus at Videoslots casino - T&Cs Apply 18+ New Players Only