Does it matter when you play slots? Will a slot machine payout big if it's been played a lot, not played at all, or the full moon is out? We take a look at whether there's any truth to the myth.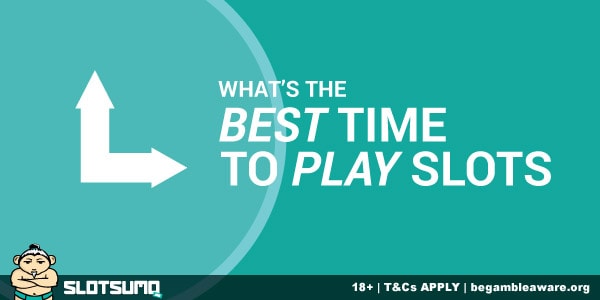 Casino myths are ten a penny. Some say you can trick a slot machine by changing your bet size. Others think casino slots won't pay out if they've just awarded a huge jackpot.
You can spend your life obsessing over when, statistically, an online slot is most likely to payout. The truth is, it's a total game of chance. Online slots use random number generator technology, which is specially designed to generate a sequence without any patterns.
That doesn't have to spoil the fun. If you're looking for the best time to play slots online, it's about doing your homework and knowing your own habits.
Play on reputable online casinos
First of all, always look for an online casino site that is transparent about licensing. A reputable site will be fully licensed, usually with details listed in the footer. Likewise, it should also have information about responsible gambling.
If in doubt, check out our casino reviews where we have a full list of reputable online casinos.
Play when you can find the "real RTP"
An RTP or "Return to Player" rate is a percentage that tells you how much you'll win back relative to how much you wagered. So for example, if a game's RTP is 95%, statistically you'll win back €$£9.50 on a €$£10 stake – if you play for long enough over millions of spins.
Many online casino reviews or affiliate sites only display an "average" or theoretical RTP next to their games. But sometimes you can find something better – like how at Videoslots casino you can find the "real RTP" tool.
Rather than giving you an average, this analytical tool looks at gameplay in real-time. It will give you figures on the game's true RTP relative to how much it's been played. Don't be surprised to see anywhere from 85% to 104%.
Play when the jackpot is high
Like a real RTP tool, progressive jackpots can change sporadically in real-time. There's no way of knowing when the jackpot will be highest, just like there's no "magic time of day" for payouts.
Casino analysts can present historical data, but there are no patterns to base gameplay on. If you happen to log in at a time when the jackpot is high, go ahead and play because the higher it is, the more likely it will soon 'break' – but know your games.

The Mega Moolah slot game has a habit of breaking around the 10 million mark, whilst Hall of Gods from NetEnt tends to be closer to 4 to 6 million. The IGT Megajackpots Cleopatra, on the other hand, tends to hit around the 800,000.
The good news is that if it's low… you go ahead and play anyway because smaller jackpots have been won, as have bigger. These are general trends, NOT absolute rules.
But you might be inclined to bet less to save your budget for another game.
Play when you're in the right mood
Reputable casinos take responsible gambling extremely seriously. If you're playing to make yourself feel better, or when you're angry or intoxicated, you're going to lose out.
Being emotionally charged may affect your judgement and cause you to blow your budget. If you're stressed, put the device down, take a walk and come back to it when you're ready.
20 Free Spins + up to €300 Bonus
Get 100% up to €300 in bonus on your first deposit plus 20 free spins on sign up at Casumo Casino
#AD 18+ New customers only. Wagering and Full T&Cs apply.
Play when you have the budget to play
Again, this comes under the arm of responsible gambling. You should set yourself a budget within a certain timeframe, for example, €$£10 per day or €$£50 per week.
If you're struggling with this, check out the site's responsible gaming policy. Some offer "time-outs" or temporary suspensions to help you take a break from gameplay if it's getting too much.
If you've used your budget for the week, Mr Green Casino has a tool that lets you freeze your account so you can't deposit again till next week, or next month, or whenever your budget is replenished.
The way you play online slots will also affect your budget. High volatility slots will need a much higher bankroll than low volatility, low reward slots. Plan your budget in line with the game you're playing. Give yourself a time limit as well as a spending limit. As they say – when the fun stops, stop.
Find a time of day that suits you
Some online slots will require more strategy than others. Let's say you're playing a high volatility slot. This takes patience, a higher budget and a tactical approach. If you're not feeling mentally wired, you could lose out.
Are you more of a morning person? Indulge your gameplay before you go to work or hit the gym. Prefer to play when you've had breakfast and woken up? Play in the daytime. Or perhaps you just like to wind down in the evenings.
Playing when you're tired or preoccupied with other things is not a winning formula. Give yourself time to focus and play when you're ready to have fun.
Make the most of promotions
While statistically there's no one prime time for jackpots, you can make the most of promotional offers. Some online casinos will take advantage of seasonal changes, for example, capturing people during their leisure time around Christmas or Halloween.
Keep an eye on your emails for any free spins or bets around certain times of the year. They won't increase your chances of winning, but they're a handy bonus to help you try out that new slot machine or play for longer on that jackpot casino game.
Get up to €$100 Bonus + 100 Free Spins
Get up to €$100 bonus cash in the GUTS bonus with 100 wager free spins on top
#AD 18+ New customers only. Wagering and Full T&Cs apply.
While we're at it, here are some more myths…
So now you know there's no magic time of day or day of the week to win. What else should you know? Don't let any of these misconceptions spoil your fun.
Online slots are fixed
This is an absolute no-no. All licensed gaming operators regulated by decent gaming authorities will ensure all the games at the casinos are tested month by month to ensure fair play.
Decent authority includes the UK Gambling Commission, the Malta Gaming Authority or even Swedish Gambling Authority.
Part of getting their license includes their technology needing to comply with strict rules on fairness – i.e., using random number generators.
You can win more in a land-based casino
Playing blackjack with a real dealer might be fun, but it makes no difference to your winnings. Similarly, with online slots, these use the same technology as those in land-based casinos.
So no matter where you are, your chances are just as good.
Slot machines can be "hot" and "cold"
It hasn't paid out in ages. It must be time for a big win now, right? Wrong. Never take this approach when playing online slots. A slot machine is just as likely to pay out huge jackpots 10 times in a row as it is to not pay out for days on end.
Progressive jackpots can increase with more people playing an online slot, but this doesn't affect your chances of winning.
Find the best online slots with SlotSumo
At SlotSumo, we'll point you towards the best and most transparent online slots. You'll find all the historical data you need including jackpots, low or high volatility, game bonuses and RTP ratings.
Browse our online slots catalogue to find a game that suits you best. Remember, the best time to play is when you're ready.
Try Your Luck at GUTS »
Get 200% Bonus up to €100 + 100 Free Spins on Conan Slot at GUTS casino - T&Cs Apply 18+ New Players Only