There are no two ways about it – playing online slots is a whole lot of fun, and potentially pretty rewarding. Of course, depending on how you play, there can be a strategy for it.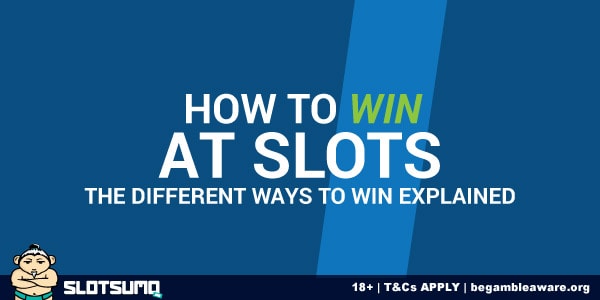 You might want a quick fire round of low bets on a low volatility slot, or you might be in it for the long haul. Every player likes slightly different slot features that make you feel like you might win.
All reputable slot machines have built-in random number generators. This means there's no magic method for winning big.
If you're a seasoned player, you can learn more about how to win at slots with advanced strategies. However, if you're new to slots, here are the winning combinations to look out for.
1. Getting a win on a payline
First things first – let's go over some terminology. A payline is the combination of winning symbols that appear on a reel.
In any given slot machine, there could be upwards of 243 different paylines. These could be a simple horizontal line or matching symbols, or more complicated like diagonals.
Winning on a payline is the easiest way to win playing slots. You just need to be lucky with matching symbols appearing in the right places. Read our slot reviews to find out the different winning combinations on various games.

2. Getting a win on a cluster
A great way of knowing how to win money on slots is to look up Grid slots with cluster pays. These aren't available on all games, but there may be more chances of winning if you can find one!
A cluster win means that symbols don't necessarily need to match up in line order. They could appear randomly on the reels, but as long as they are touching either horizontally or vertically, you will get a win.
Cluster wins are slightly harder as they generally require a minimum of five to nine symbols to win. Therefore, you should pick a slot with a high number of reels. More reels equal more symbols and more chances of a bigger cluster.
3. Getting a win on a Megaways or 'Ways to Win' slot
Megaways and Ways to Win slots offer huge payout opportunities, taking the paylines and extrapolating them for big wins. With a regular slot, you can only win so much on a set number of paylines with matching symbols.
So let's start with 'ways to win' as they are the simplest version. This just means that the symbols need to line up from left to right as long as they are on consecutive reels.
So a symbol on reel 1, 2, and 3 will give you a win. A symbol on reel 1, two symbols on reel 2, and one symbol on reel 3 will give you 2 ways to win (or 2 three of a kind wins).

Think of it as multipliers:
On a five-reel slot, if you have one of the same symbol appearing in each individual reel your payout would be equal to 1*1*1*1*1. However, if it appeared twice on each reel, your payout would be 2*2*2*2*2 times your stake and so on.
Even better, on results where it appears unevenly, for example twice on one reel and thrice on another, it's multiplied even further.
For example, you could win 2*2*3*2*2. Depending on the size of your stake, you could see huge multipliers. Look out for slots with Megaways in the title.
Megaways change the rules and the rows
Megaways slots generally achieve the biggest payouts possible of these ways to win slots, because how many ways to win changes depending on the spin.
In essence, you usually get 6 (not 5) reels, and each reel can have anything from 3 to 7 rows of symbols on any one spin.
So let's say reel 1 has 7 rows of symbols, reel two has only 3 rows, reel three has 6 rows, reel four has 6 symbols, reel five has 4 symbols, and reel six has 5 symbols.
You will have then have 34,300 ways to win on that spin.
The maximum amount of ways to win you can get on a standard 6 reel Megaways slot machine is 7 rows each and gives you an eye-popping 117,649 ways to win.
20 Free Spins + up to €300 Bonus
Get 100% up to €300 in bonus on your first deposit plus 20 free spins on sign up at Casumo Casino
18+ New customers only. Wagering and Full T&Cs apply.
4. Getting a win with special symbols
If you're really interested in how to win playing slots, look out for special or bonus symbols. Details of each of these can be found on the game's slot reviews. For example, you might see a shamrock on an Irish-themed slot.
Special symbols can appear and multiply your wins, unlock bonus rounds or replace other symbols. They're broadly categorised into three types:
Scatter symbols
A scatter symbol can appear anywhere on the reels and still help you win, even if you don't have a winning payline combination. So you get a win if a scatter shows up on reel 1, 4 and 5, anywhere on those reels. Typically, you'll win a payout or access to a bonus game.
Wild symbols
The wild symbol can replace other symbols to give you a winning combination. However, they can't replace scatter symbols and don't always have any value on their own. In some games, an individual wild symbol can reward you with its own prize, such as free spins.
Multiplier symbols
Multiplier symbols do exactly what they say on the tin. When one of these appears, your stake is multiplied to give you an even bigger return. They need to appear in a payline, a bonus game, or a special symbol to win X number of times your payout.

5. Getting a win with bonus games
Certain combinations of symbols will unlock bonus games. These add an extra layer of excitement and could secure you big payouts. Some of the most common bonus games include:
Free spins
Certain symbols, usually 3 or more scatters, may trigger free spins. These are the machine giving you a number of spins, for free. You could win even more prizes during these spins, but you won't lose any cash from your bankroll. These usually come with multipliers, extra wilds and special features to make them even more worthwhile.
Get up to €$100 Bonus + 100 Free Spins
Get up to €$100 bonus cash in the GUTS bonus with 100 wager free spins on top
18+ New customers only. Wagering and Full T&Cs apply.
Click Me games
With Click Me games, you'll be presented with options of symbol to click. Behind each of these 'doors' lies a prize. There's no telling what it is, but choose wisely and you could see a big payout!
Instant Win games
Instant Win games are very uncomplicated and do not have their own bonus round. You'll play quick fire rounds and win prizes immediately, though they will be smaller than regular slot game wins.
Jackpots
For bigger wins with more strategy, look out for jackpot games. These may be progressive – they grow as more people play – or they could just randomly award larger payouts. Typically, there is more strategy involved in as much as how much you bet and how long you can play will affect your chances of winning.
But ultimately, it's all mostly down to luck.
More about Slotsumo:
While there's no way of knowing how the cards will fall, it's great to be clued up on how to win! Check out our slot reviews for more details on winning combinations or have a look at our list of casino bonuses for some great offers to get you started at some new casinos.
If you know exactly what you want to experience or try out, check out our slot search which you can filter all of our game reviews by features, paylines, RTP and more.
Alternatively, we have a great selection ofonline casino reviews for you to try some of the different casino slots available to figure out how to win at slots online.
Try Your Luck at GUTS »
Get 200% Bonus up to €100 + 100 Free Spins on Conan Slot at GUTS casino - T&Cs Apply 18+ New Players Only