It's always been a challenge for us to let you find the types of slots you want to play quickly and easily. With hundreds of slots to scan through it can be a tedious affair.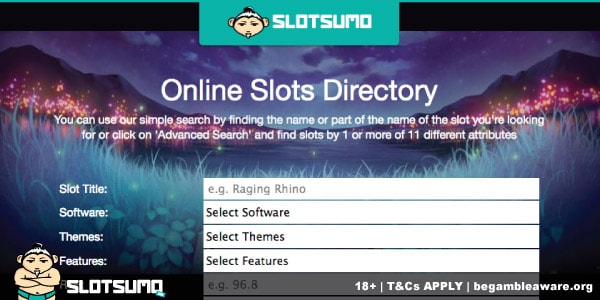 That's why we put our heads together and have created our Simple and Advanced Slot Search to make it easier for you to search for slots on SlotSumo.com
To note: It's currently a beta version so some searches might give you a few odd results, something we'll be tweaking over the coming weeks.
2 Types of Searches
One thing we wanted to do with our searches is give the different kinds of slot players the ability to search easily online via desktop or mobile. Some know the game they want to find out more about just by name, and some want to narrow down by the nitty-gritty details.
So we created two types of searches. The Simple search which you can use to search our slots by the name or part of a name if you know it.
Then you have the Advanced search which dives deeper into the details letting you use one or more of eleven different attributes.
Let's look at each one and find out exactly how to use them.
How to use the Simple Search
The Simple Search is the quickest and easiest way to find a slot review that we have on SlotSumo if you already know the name or know part of the name.

For instance, you can type into the search box 'Viking', and you'll get a result of all the slots with Viking in the title like Viking Runecraft from Play'n GO and Vikings from NetEnt.
What you might find at the moment is that it will also return reviews of slots where the word 'Viking' is used in the text of the review. It might be the mention of another slot or the actual theme, which could offer you some fresh ideas on which slots to play.
If you're after the ability to fine-tune your search results, then that's where our Advanced search capabilities come in.
How to use the Advanced Search
If you're a bit of an experienced slots player or even if you're not then you might want to try our feature-packed search to narrow down the slots you like to play.
This is where you can search by one or more of eleven different criteria, all of which you can find within the individual slot reviews that we create.

Slot Title: The same as the Simple search you can use this field if you know the name or part of the name of a slot, but combine it with any of the other attributes to narrow down your search.
Software: Select from a pre-defined list of software providers (the companies that create the slots)
Theme: Select from a list of different slot themes like Ancient Egypt, Wild West, etc.
Features: Currently, you can only select one feature that you might find within a slot like Wilds, Scatters, Free Spins, Cascading Reels, etc.
RTP: The theoretical Return to Player of a slot. Enter a value in float form, for example, type 96.5, and you'll get results with slots greater than or equal to that number.
Min Bet: The minimum total bet for maximum lines, for example, 0.10
Max Bet: The maximum total bet for maximum lines, for example, 100
Volatility: Select from Medium, Medium to High and High volatility as we only review medium up to high volatility slots here on SlotSumo
No. Reels: Select from a list of reels the slot offers
Slot Type: Slot type gives you the chance to refine your search by type of slot whether it's a classic slot, video slot or grid slot
Paylines: The number of paylines or ways to win the game contains
One great aspect of our Advanced slot search is that you don't have to use all of the different details. You can quickly enter just 97 into the RTP box, and you'll instantly get a list of slots with a high RTP of 97 or more.
Or combine Software with Volatility to see which slots Microgaming offer with high volatility, for example, which usually means which slots offer the biggest rewards, but at a higher risk level.
However, you intend to use it there are a few ways you can get started searching.
You can head to our main slots review page where it's right there ready for you to try or head to our Online Slots Directory and start searching.
What happens after you search
No matter which type of search format you use the results will offer you a list of slot machines featuring an image of the game logo, the name of the game, provider, return to player rate and a big button to head to our review.
Cause we figure once you've found the types of slots you like to play then you're going to want to either read the review to find out more about the game or a list of casinos that you can actually play at.
Both of which you can do within every one of our SlotSumo slot reviews.
Just one thing to note, when you do head to one of the casinos and try looking for the game you might not see it instantly. That's because, in some regions of the world, including the UK, you'll have to sign up and log in to a casino to see all the slots they offer.
Something that's a little frustrating but worth it if you've found a new slot game you have to try for fun or for real.