Myths about online casinos are ten a penny. Some say they're fixed, and others say they're primed to pay out at key points of the day.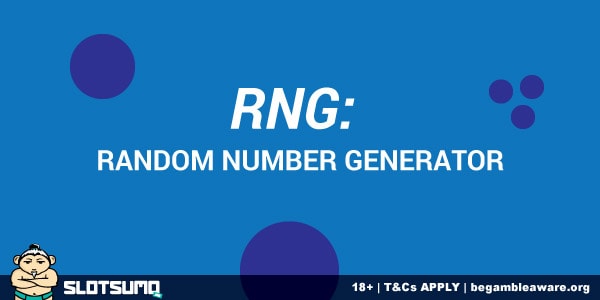 The truth is, online slot games are completely random. You can study all the statistics in the world but there's no way of guaranteeing a certain result. This is thanks to random number generators.
What is a random number generator?
Random number generators are a complicated set of technologies that ensure operators cannot fix results. They're also legally enforceable. If you're looking for a reputable slots provider, choose one that is clearly licensed.
Licensed gaming providers are also bound by the terms of regulators, for example, the UK Gambling Commission. They are also tested by third-party companies whose whole job is to test games for randomness every month in order so the casinos can keep their license.
These regulators ensure that all online gambling is fair. Their mission is to make the online gaming experience exactly like a land-based one: fair and totally random.
How the random number generator (RNG) works
There are two basic types of RNG: the pseudorandom number generator (PRNG) and the hardware random number generator (HRNG).
20 Free Spins + up to €300 Bonus
Get 100% up to €300 in bonus on your first deposit plus 20 free spins on sign up at Casumo Casino
18+ New customers only. Wagering and Full T&Cs apply.
HRNG
We'll start with the simpler RNG. The hardware random number generator is less sophisticated and more likely to be found in a land-based casino.
It's a little clunky as it's an external device. For example, it may attach to a casino server's USB port. Using compound values as a starting point, it generates completely random numbers. However, these numbers need to start with a rule or action – for example, the action of playing a slot line.
An algorithm generates results based on these actions. This means that, technically, no HNRG is 100 per cent random.
PRNG
There's a reason that online casino operators prefer PRNGs. They don't need any 'external output', like an action. Instead, PRNGs use algorithms and seed numbers.
PRNGs can throw out thousands of seed numbers at any one time. This makes them much more efficient, producing numbers every millisecond.
They're also 'deterministic', which means they can produce sequences of numbers even if the starting point is unknown.
How do PRNGs produce seed numbers?
So, where do these numbers come from? They start with an algorithm, created by developers. They'll take the last one or two numbers in a sequence and generate an outcome through addition, subtraction, multiplication or division.
Again, technically speaking, PRNGs are not totally random. Because they have a finite number of outcomes based on calculations, they could generate the same result twice.
However, this finite number is pretty high, so it's very unlikely you'll ever see this.
How are random number generators used in slots?
Let's put all these numbers into context. RNGs work very differently depending on the game they're used with. For example, in a roulette game, the 'action' might be the spin of a wheel.
With online slots, the RNG determines the exact outcome of each individual spin. So this could be a win or a bonus round, or no payout whatsoever. The online software communicates with the RNG to produce this random outcome.
Don't believe the myths. It doesn't matter how many times the machine has paid out, nor what time of day you play.
How do I know that RNGs are fair?
As part of the regulation process, online slot providers use third-party tools and companies as we mentioned above. These constantly assess the fairness of a video slot.
You may have heard of eCogra or Gaming Labs – an independent third-party that tests whether or not outcomes are truly random.
Other ways of testing include game payout verification, RNG evaluations or game and mathematics audits. In short, if you play at a licensed casino, the games are fair.
How can I win on online slots?
As there's no technical 'skill' involved with slots (bar a few tactical plays), your chances of winning are completely random. However, if you're looking for a slot to play, you might be interested in its RTP rate.
What is an RTP rate?
RTP means return to player. It's valued as a percentage and tells you how much you'll win back relative to how much you spend. On average, this is around the 94 to 97 per cent mark.
So, if you wager €$£10 at 94 per cent, play for long enough and you should win €$£9.40 back.
We have a list of the highest RTP slots that offer wins more frequently than most.
Exclusive: 10 Free Spins + 100% up to €$200 Bonus
Get 10 free spins on Starburst on sign up plus 100% up to €$200 first deposit bonus
18+, first deposit only, T&Cs Apply
How do RNGs affect RTP?
Random number generators are programmed to make sure slots honour their RTP rate. This means that (again, not totally random) they will influence the combination of numbers to keep the RTP rate steady.
Don't forget – the number of outcomes is almost infinite, so there are a lot of ways that RNGs keep that number consistent!
Ever since September 2016, online casinos have had to measure online slots to make sure the RNGs return consistent RTPs.
Can RNGs be hacked?
It can happen, but it's very unlikely. As the number of outcomes is technically infinite, a hacker could feasibly use a very advanced algorithm to predict millions of numbers.
However, technology is updating all the time to prevent this and online casinos have one of the best security designs around, for good reasons. You think Vegas has high security? That's nothing in comparison to the likes of Videoslots casino or Royal Panda casino.
Take a chance at SlotSumo
Remember, every game has a house edge – that's what makes it fun. Choose from a range of RTP rates using our advanced slot search and remember your chances of winning are as good as anybody else's.
Try Your Luck at Royal Panda »
up to $1,000 Bonus + 10 Free Spins on Book of Dead at Royal Panda casino - T&Cs Apply 18+ New Players Only