The pairing of 'slot machines' and 'strategy' is one that's sparked debate among gamblers for many years. How can we apply a strategy to a machine whose outcomes are, by law, determined by random number generators?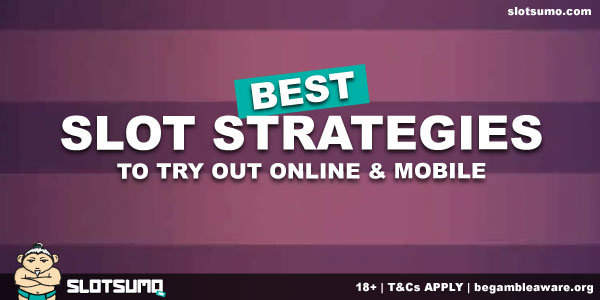 Well, as the old saying goes, it's not the destination, but the journey. We will never be able to govern exactly what the machine churns out.
What we can control, however, is how we bet and how we react to changing circumstances. Whether you're a novice or a slot machine aficionado, we've picked out the best slot machine strategies to maximise your winnings.
If you're a beginner…
Now is not the time to be risky with your budget if you're starting out. First of all, there's no point disadvantaging yourself from the off.
Look for the vital statistics of the slot games you play. For example, a higher Return to Player rating means the rewards will be higher statistically, but you may have to play for longer.
Know your limits
They say only bet what you can afford to lose. But your limits shouldn't be your deposits – you could also limit yourself on winnings or time spent.
Some games will let you program reminders to cash out when you've won enough, while all reputable gambling sites will offer you the 'time-out' option.
If you've been playing for a little while…
Here you'll want to move on from casual gambler to serious, but low risk, territory. This is when your timing comes into play, and you should also consider low versus high volatility slots.
What's the difference between a low and high volatility slot?
Volatility refers to the rewards relative to how long you've been playing.
So, for example, a low volatility slot will pay out more often, but the rewards will be small. With a high volatility slot, you'll be playing for a lot longer – so you'll likely deposit more – but the eventual winnings have the potential to be much larger.
For a low-risk approach, choose a low volatility slot such as the Mega Moolah slot. Start by placing small bets, perhaps the minimum bet required, to allow you to familiarise yourself with the game. Maintain this small bet as you get going – keep going until you get a pay-out.
Get 11 Free Spins + up to €$200 Bonus
Try Videoslots casino with 11 Free Spins and up to €$200 in bonus money on your first deposit
#AD 18+ New customers only. Wagering and Full T&Cs apply.
Only then should you up your bet, but again, be mindful of winning limits. Once you get comfortable there, move on to medium variance games such as the Monkey Warrior slot, or Thor's Lightning slot game.
If you're an expert…
Then it's time to play dangerously. (With sensible limitations, of course.) This is where advanced slot machine strategies come into play.
In the most general sense, you need to bet high to really get the best out of high volatility slots. But you'll also need to play for a while. You can also employ a few of these advanced tactics to respond to changing circumstances.
Raising your bet when you lose
We never said this was for the faint-hearted! You can either try this once or do it every time you lose, but always make sure you have enough funds to cover your losses. Do this sensibly – for example, only raising your bet by one or two levels (e.g. the total of your original stake) if you've lost three to five times in a row.
The theory is that slot machines generally have a hit rate of 20 to 30 per cent, so you're likely to win every five to 10 spins. Once you do win, then you can bring your bet down and start the cycle again.
Just be careful not to chase your losses. If you keep raising your bet, you'll soon run out of funds before the big jackpot comes out. This is for advanced players who know how and when to stop.
Raising your bet when you win
This is far less risky than the above mentioned strategy, as you're technically playing with money that isn't yours. But you should always withdraw when you've made a profit – don't be fooled into thinking you're on a 'winning streak' forever.
The theory behind this is to have lots of little incremental wins, rather than one big one. Of course, you might get lucky and win up to 1,000 times your bet, but these are all relative to your stake.
Only up your stake if you're comfortable you've won enough to justify it. It's also a good idea to set a winning limit – so when you hit the win, you cashout immediately. That way you never spend all your casino big wins.
Get up to €$100 Bonus + 100 Free Spins
Get up to €$100 bonus cash in the GUTS bonus with 100 wager free spins on top
#AD 18+ New customers only. Wagering and Full T&Cs apply.
Adjusting your bet in real-time
This one's really for the shrewdest of gamers. It involves changing your bet relative to whether you're winning or losing. For example, you could up it by 10 per cent if you win 10 per cent, and decrease it if you lose.
This helps to stretch the budget for longer – and we all know that high volatility slot games take a while to award the really big jackpots.
There's one slots provider that has in-built slot strategies for you to try out in all of their slot games. The Elk Studios slots like Kaiju and the Hong Kong Tower slot are some great real money games to get you started.
Remember: fun is everything
At the end of the day, slots are meant to be fun and entertaining. If at any points you are not having fun, quit.
But if you know your budget and how you like to play; play to suit your style. Whether it's stretching that £€$30 on low variance games for an hour, or doing 6 big bet spins at $5 a spin for 3 minutes.
If you are having fun, then you're halfway towards having a successful slot strategy.
Try Your Luck at Videoslots »
11 Free Spins + 100% up to €$200 Bonus at Videoslots casino - T&Cs Apply 18+ New Players Only