When it comes to playing slots online, there are a number of strategies and other considerations if you're a serious gambler. This might seem daunting at first: high versus low volatility, return to player rates and wildcards are all pretty serious lingo.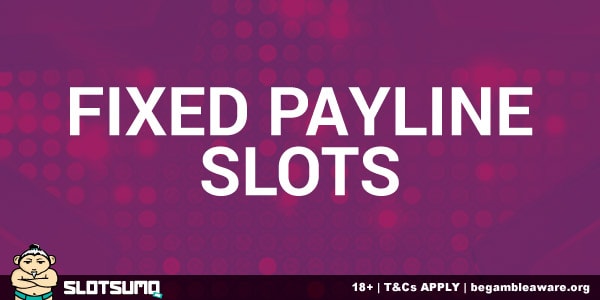 Before you go diving into the dictionary, you need to understand the basics. One of the fundamental elements of the online slot machine is the payline.
We investigate both types, what they are and which is the best to play at your local online casino websites.
What is a slot payline?
As the name suggests, slot machine paylines are the combination of symbols required to win a cash payout.
For example, if a slot has five reels (the vertical lines on which the symbols spin), five cherries in a row could be a winning payline.
20 Free Spins + up to €300 Bonus
Get 100% up to €300 in bonus on your first deposit plus 20 free spins on sign up at Casumo Casino
#AD 18+ New customers only. Wagering and Full T&Cs apply.
Depending on the slot you play, paylines come in all different shapes and sizes. Some are very simple – a small payout for a small number of symbols appearing together, while others are more complicated, like diagonal paylines.
In any given slot, there could be upwards of 200 potential paylines. It all depends on the reels and the flexibility of the winning combos.
What are fixed payline slots?
This is where it gets interesting. When you choose a new game, you can go for adjustable or fixed playline slots.
By default, most online slot games are fixed. This means that when you play, you're betting on every possible combination of winning symbols. Think of it this way: if you were playing a slot with 50 paylines and bet £1, you'd effectively be betting 2 pence each on each combination.
On a fixed payline slot, every potential winning combo is 'activated', so you have the biggest chance of winning. The only thing you can adjust on a fixed payline slot is the size of your bet for each spin, which will affect your payout.
The Rise of Dead slot from Play'n GO is a great example of a fixed payline game.

Adjustable payline slot machines
Why wouldn't we all want to maximise our chances of winning? One simple reason – with fixed slots, the more active paylines you have, the more you have to pay.
So, if you're on a budget or are just feeling lucky, you might want to consider adjustable payline slots where you can choose how many paylines you have on depending on how much you are winning or losing.
The Dead or Alive slot game (one of our favourite NetEnt slots), for example, has adjustable paylines.

How many lines should I play on a slot machine?
Another benefit to adjustable slot machines is that your winnings could be higher. They are essentially good value for money. Let's say you wanted to bet £5 per spin. You could play two coins at once with a value of 50 pence each and activate five paylines. That means for every win you'd make a generous £1 – relatively high based on your stake.
Alternatively, you could select more paylines, such as 10, and pay out 50 pence each time. Again, this increases your chances of winning, but the payouts are smaller.
How many slot machine paylines you want to play is completely up to you. On the one hand, you might want bigger payouts as a reward for a lower frequency of wins. On that basis, go for single-digit paylines and bet bigger. On the other hand, you might not be in it for the long haul. In that case, add multiple paylines and watch the (smaller) rewards come in time and again.
Should I play fixed or adjustable slot paylines?
Again, this is down to your individual style of gameplay. If you have more budget to play with and don't mind a relatively small payout multiple times over, then you may prefer the simplicity of a fixed slot. Every payline is activated, so you don't have to think about what to pick.
Similarly, perhaps you've got more time on your hands. Maybe you want to feel like you have some influence over your winnings.
You can experiment with different numbers of paylines, and spend less, or try a classic 3 reel slots to figure out how paylines works to begin with.
The parallels with high and low volatility
You've probably heard of high and low volatility or the variance slots. This is very much the same principle. With high volatility, you win less often but you win bigger prizes, whereas low variance slots give you frequent, little buzzes.
Find a style of gameplay that works for you and go with it. Ultimately, there is not a huge amount of variation between slot payouts due to the fabled Return to Player (RTP) rate.
This is a percentage and outlines how much you can expect to win back after a certain amount of time playing. For example, if you bet €$£10 on a 97% RTP slot, you should eventually expect to win back £9.70. It's what we call the house edge.
Play wisely
If you're looking for a new slot game, read up on it first with slot reviews. Here you'll find RTPs, details on low and high volatility, and whether or not adjustable slots are available.
Experiment a little and never bet more than you can afford to lose. You'll soon develop a style that works for you.