As we've got better mobile devices, movie inspiration and better graphics have seen a rise in new themed slots. We take a look at some of the most popular themes and games.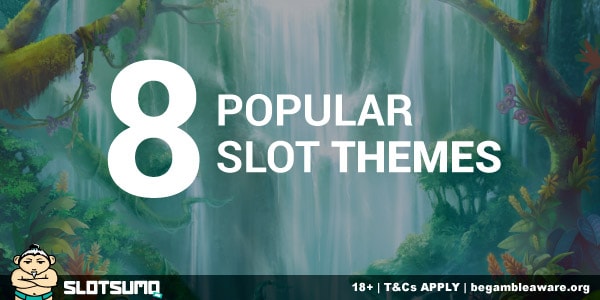 So you're new to slots it might seem daunting at first – there's a lot to learn, from scatter symbols to the highest RTP slots.
Before you get into the science behind slots, it's wise to pick a slot theme. As technology has developed over the years, game-makers have been a lot more creative.
If you're not sure where to start, these themed slot machines are a favourite amongst regular casino players.
Bells and cherries
This is most definitely one of the oldest slot machine themes out there! It became popular thanks to its provenance – for example, the cherries are a homage to the old arcade games of the 19th Century, when players would win sweets.
These fruit-themed slot machines also feature bells, which are a nod to the Liberty Bell in Philadelphia.
Not every slot machine comes with a history lesson, so it's no wonder this simple design is a hit.


Which slot should I play? Read our Laser Fruit slot review: this is the classic fruit design with a modern, 'laser' twist that keeps the reels growing.
Ancient Egypt
This years-old theme is steeped in mystery – just what do the hieroglyphics mean, and why did the Egyptians worship certain symbols?
Many Ancient Egypt themed slot machines feature traditional Egyptian symbols of luck, such as the cat or the scarab beetle. It's also visually appealing and plays to our sense of adventure – the gold colour schemes immediately encourage us to win.

Which slot should I play? The Legacy of Egypt slot: this beautiful game even offers high impact free spins, with free spins within free spins.
Ancient Greece/Rome
Keeping with the ancient theme, throwbacks to Ancient Greece and Rome give us empowering messages about mythical gods.
They also add an extra element of excitement with 'battles' – for example, bonus rounds to fight the gladiators or literally heading to the heavens.
With strong lucky symbols and added features, these ancient myths are an enduring hit with players.

Which slot should I play? The Wild Gladiators slot: fight the Roman gladiators and win up to 4,000 times your stake.
Vikings
Known for their brute force and thirst for battle, Vikings make a great slot theme for anybody seeking out big thrills.
Developers have really put time into making Viking themed slots even more advanced. Yggdrasil Gaming, for example, bringing out 'Go Berzerk' and 'Go to Hell' versions of their original Vikings Go Wild as it just proved so popular.
So the chances of a big jackpot will only get higher as you go to war with these seafaring adventurers.

Which slot should I play? Read our Vikings Go Berzerk slot review: if you like to play hardcore, this high volatility slot offers big jackpots.
The Far East and the Orient
As a stunningly beautiful culture, the Far East and the Orient makes for visually appealing slot machines.
Many of these slot themes play on the colour red, which is considered a symbol of luck in ancient Chinese culture. Add some number 8s and plenty of Fireworks and Dragons, and luck and fortune are just around the corner.
There are also traditional geishas, wild cherry blossom and other colourful symbols, making you wish you could take an aeroplane and go exploring the beautiful Far East.

Which slot should I play? The Geisha Wonders slot: beautiful imagery awaits with the chance to win up to 10,000 times your line bet win.
Animals
One of the broader slot themes, animals show up in many shapes and forms.
They could be exotic animals on the Orient, or mythical beasts such as unicorns. Go deep into the rainforest, head on Safari, or battle dangerous predators for those most highly coveted prizes.
With bright colours and themed multipliers, animal slots offer a classic slot theme.

Which slot should I play? The Rainforest Magic slot game: there are tons of ways to win big with the rainforest animals, including mystery symbols, free spins and mystery reels.
Irish & Leprechauns
This may just be one of the most popular slot machine themes out there!
They don't call it the luck of the Irish for nothing. Every time you play one of these colourful slots, you'll see lucky symbols like shamrocks and leprechauns.
The Irish slot immediately draws players in with its promise of the 'pot of gold' at the end of the rainbow, so it's no wonder the bonuses are huge.

Which slot should I play? The iconic Rainbow Riches slot: this is the definitive Irish slot, featuring up to 500 times your original stake and plenty of spin-off games, including Reels of Gold and Fortune Favours.
Branded slots
These are definitely the most modern of all the themed slot machines. For that reason, you might find them the most fun.
Game developers have taken everything we love about popular culture and turned it into an online slot. Battle your favourite DC characters or immerse yourself in the world of Game of Thrones.
These are official merchandise, so you'll know you're always playing the real deal.

Which slot should I play? Microgaming's Game of Thrones slot: they say you win or you die. The chances of winning are much higher, with 243 winning combinations.
Need more inspiration?
Get even more slot reviews, statistics and more right here on SlotSumo, where we give you the most volatile and big win games on the internet.
Try Your Luck at Casumo »
20 Free Spins on Sign Up + 100% up to €300 First Deposit Bonus at Casumo casino - T&Cs Apply 18+ New Players Only