If you're a seasoned casino slots player, you're probably looking for ways to make it even more exciting.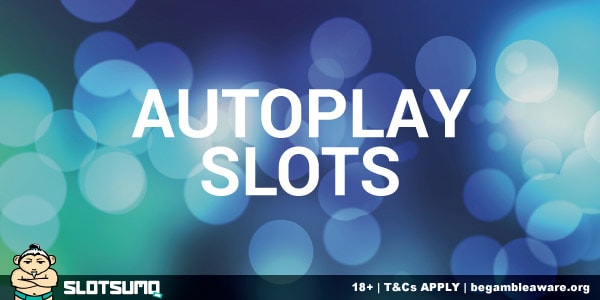 Beyond the thrills of free spins, scatter symbols and jackpot wins, there are ways to get those big wins faster.
Enter, the autoplay slots feature – a way to keep the momentum going without RSI on those thumbs. So, how can we make use of this?
What is the slot autoplay function?
First things first. When you begin playing on an online slot, you'll start with X amount of cash in the 'bank', i.e. how much you deposited.
You will then set up your bet, which is how much you'll pay every time you spin the reels. Let's say you're playing with €$£10 credit and betting 0.50 on each spin – it should take you 20 spins to get through your funds if you're unlucky enough not to win anything back!
If you're not playing on autoplay, you can adjust your bet manually. You might be feeling lucky and want to up your bet. In many cases, this can give you the chance to win bigger prizes, particularly if you're not using fixed paylines.
Alternatively, you might want to prolong gameplay with smaller bets.
The autoplay function takes away this manual process. You don't have to click spin every time, saving you time and allowing you to concentrate on other things. This is great if you're a multi-tasker: perhaps you're playing on a desktop and have the footie on another screen.
Once you've set your casino bet, you can hit autoplay and focus on something else – as long as you don't bet to spin more than you have budget.
How to play slots with autoplay
Of course, this may sound risky, so there's a certain amount of common sense that comes into play here. There are a few techniques you can use to keep a hold on your spending, plus, modern slots with autoplay offer more options to keep gameplay safe.
Getting set up
If you've chosen a slot with an autoplay feature, you should see some settings around the spin button. Simply turn on autoplay and it will auto-spin for you, betting the same amount each time. Every time you get a win, the results will flash up briefly, then move on to the next round.
Keeping an eye on your spend
If you want to use this time-saving tool, make sure you make the most of the following features and methods. It's easy to put it on automatic, and next time you look, find that your budget has significantly decreased or you might miss out on a big win moment.
Intervene manually
There's no reason why you can't intervene on an autoplay slot. Just as you would manually set yourself a weekly spending limit, keep an eye out for your winnings.
You can tell yourself and often the game has settings to stop when you win over a certain amount, for example, or when you enter a bonus game/round of free spins.
20 Free Spins + up to €300 Bonus
Get 100% up to €300 in bonus on your first deposit plus 20 free spins on sign up at Casumo Casino
#AD 18+ New customers only. Wagering and Full T&Cs apply.
Betting in increments
Certain autoplay slots feature their own limitations, like spin increments. Usually, you can play in increments of 10, and most will allow you to have a maximum of 100 auto-spins before they stop.
That's not to say that gameplay will cease altogether. Instead, at this point you can review your bet size and adjust accordingly. You can also change the number of paylines you're betting on if you're not using slots with fixed paylines.
These machines can also let you adjust how many spins you want to autoplay, giving you greater control.
Make use of advanced settings
The best slots with autoplay will take their settings one step further. For example, you may be able to put a spending limit on the spins to protect your budget. Likewise, if your balance falls below a certain amount, you can program the slot to stop auto-spinning.
Better still, if you have a big win or a big loss, you can set this up to stop afterwards. For example, you can tell the slot to stop spinning if you lose X amount, or if you hit the jackpot and your balance goes beyond a certain amount, it will stop.
Elk slots have some of the best-advanced settings for the autoplay function, with in-built betting strategies already set up, helping you to win playing online slots.
Think about winnings – not just losses
When it comes to budget management, it's easy to focus on what you're losing. However, if you do hit it big on one of the many progressive slots and don't set it up to pause, you could lose out!
Let's say you have a big win but 50 more spins to go. There's no point risking losing your jackpot, so set this up if you can or keep a close eye on the gameplay.
Other points to ponder
To get the most from autoplay slots, remember:
Certain rounds will need manual input, like bonus games
Turn up the volume if you're focused on other things
Watch out for any features you can't use on autoplay, like the gamble feature
Read the slot reviews to see if autoplay will work for you
Above all, know your limits and bet safe – you could just save yourself a lot of time! Don't forget that the autoplay function may not always work when you free play slots.
It's worth finding a good online casino who give the choice to do both, and we have some of the best selection of online gambling sites on the internet.
Try Your Luck at Casumo »
20 Free Spins on Sign Up + 100% up to €300 First Deposit Bonus at Casumo casino - T&Cs Apply 18+ New Players Only