With so many online slots, and more and more cropping up each day, it's easy to fall into traps. Just like any other online business, slot machines are a target for scam artists hoping to make a fast buck.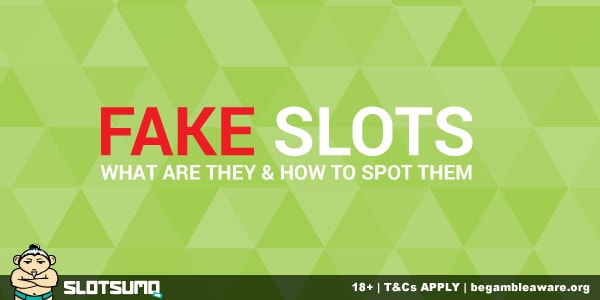 Thankfully, there are regulations in place to keep this to a minimum. Your responsibility, as a player, is to look out for these regulations and spot the warning signs.
But first things first: to learn how to spot a fake slot, we need to understand what constitutes a 'fake' slot. We will then give you some clues and tips on how to spot them.
What are fake slots?
First and foremost, fake slots will be run by unlicensed casino operators.
When you're playing online, you should notice some text on the homepage outlining the details of your chosen operator's licence.
For example, in the UK it may refer to the UK Gambling Commission, if you are looking for a broader license, the Malta Gaming Authority provides a good all-round licence for Europeans, Canadians and New Zealand.
Deposit €100 Play With €200 + 50 Free Spins
Get a free Wheel of Rizk bonus spin plus up to €100 bonus and 50 free spins on your first deposit
#AD 18+ New customers only. Wagering and Full T&Cs apply.
What does it mean if it's not licensed?
Licensed casino operators have to follow certain rules to operate legally. One of these is slightly technical: they have to use random number generators in slots.
This is an advanced technology that ensures nothing can influence the outcome of a game – you're just as likely to hit the jackpot twice in a row as you are to never hit it.
Casinos operating under a licence are regularly inspected by industry organisations to ensure their tech meets these standards.
Secondly, an unlicensed casino is unlikely to be mindful of your security. Your payment details could be susceptible to hacking, or there may not be extra assurances like bet limits and withdrawal schemes, or responsible gambling 'take a break' settings.
All of these could cause you to part ways with your cash – and not how you imagined.
The technical bit
Beyond the licensing issues, fake slot machines also run on scripts. This means the server is unidentifiable, suggesting the operator doesn't want you to know who they are.
This is a red flag for suspicious activity! Read on below to find out if your new favourite game is running these dodgy scripts.
How can I spot a fake slot machine?
Some fakes are better than others, but there are a few tricks you can learn.
It all depends on how tech-savvy you're feeling. At the most basic level, you might notice differences in gameplay, whereas if you're really suspicious, you might want to investigate things like servers and source codes.
Clue #1 – differences in game rules
This is particularly notable if you're playing on a popular classic. If you or your friends have played a popular real slots game before, you'll know the rules inside out. Let's say you're playing the Gonzo's Quest.
A seasoned gamer will know that the Gonzo's Quest slot needs just three scatter symbols to appear to trigger the free spins.
On a fake fruit machine, you might see this as high as five scatters symbols needed. Anything for these operators to withhold your winnings!
Clue #2 – glitches and bad graphics
Most modern slot games are pretty tech-forward. Yes, some might be more old school and have a bit of a retro graphic feel, but if they're really fuzzy, crash often, there's big delays or different from usual, that's a warning sign.
Likewise, if the loading screen is surprisingly slow, or worse still, if there's no loading screen, bow out straight away.
Clue #3 – server location
Remember where we mentioned the techy part? This is the same principle as looking for a privacy policy.
Any online casino worth its salt with have some sort of fixed address, just like any other reputable company. You can find this in two ways.
1. If it's using Adobe Flash
To some, this is considered slightly outdated technology now, but you can find still in many online slots. You can perform this check on a desktop slot.
You'll know if it's Flash as your browser may warn you that it's loading Flash, or even prompt you to download the latest Flash player.
While playing, right-click the mouse button and click 'Adobe Flash Player settings'. Within this, you should find the server address. A legitimate casino will have its own in-house server, so the address should match the one listed on the website, for example in its privacy policy.
2. Using the source code
If you're not running Flash, you can always check the website source code. As above, you can only check this on desktop, so put the mobile down. Right-click on the webpage and click 'view source code'.
This will bring up a screen full of code – scroll through it and look for address details. Postcodes should stand out within all the other code.
How to stay safe
Above all, you can stay safe by playing at licensed casinos only, so always look for these details. Remember:
Read online slot reviews for reputable recommendations
Never give away payment details without https/details of encryption
Looking for relevant authorities like the Gambling Commission
Play demos and log off if you're unsure.
Play safe and make sure you play on recommended licensed casinoswho only used the best games and slots providers.