We take you through the 7 easy steps you need to take to start playing slots online. It's easier and harder than you think.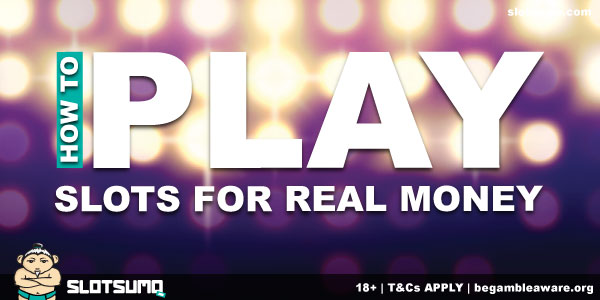 So, you've tinkered around with free and demo slots for a while. You know your way around a reel or two. You see the difference between low and high volatility and what some of the bonus features are.
You're now ready to play slots for real money and put what you've learnt into practice. But before you do, take a look at these seven steps to help you on your way to walking away with more than just a smile on your face.
Step 1: Find a reputable casino
Just what counts as a reputable casino? While we can guide you on our tried and tested online casinos, there are also a few things to look out for.
Clear payment terms: do they state what card providers they accept and does the site have secure encryption like https://?
Responsible gambling: does the site have links to responsible gambling sites and offer its own restrictions, e.g. time outs and reality checks?
A regulated license: multiple fair and safe gambling regulatory bodies ensure that casinos stay on the straight and narrow. Malta offers a safe wide net for anyone betting in Europe, whilst Curacao's net is even wider. You need a UK or Swedish Licensed casino if you want to play in those countries' casinos.
A good reputation: at the end of the day, nothing is better than having a good reputation in how they treat their players.
Good customer service: this you can test before you even register. Head over to the live chat, ask some questions and see – are polite, helpful and knowledgable?
Step 2: Sign up
Next, you'll have to fill out a few online forms to sign up as an authentic user. Signing up for a casino is hardly different from buying an item from an eCommerce site.
However, always provide real information, such as your current address. Casino providers are very hot on fraud and may investigate if they think you are playing under a false name or account.
You will need to prove your identity by sending in a photo of yourself with your passport or ID card before you can withdraw, and sometimes on registration, to get all the paperwork out of the way and your withdrawals quicker. So if nothing else, signing up with a false name will mean you will forfeit any wins and get your account suspended.
Get 11 Free Spins + up to €$200 Bonus
Try Videoslots casino with 11 Free Spins and up to €$200 in bonus money on your first deposit
#AD 18+ New customers only. Wagering and Full T&Cs apply.
Step 3: Deposit
It would be best to have your debit card ready when signing up, as you'll be invited to make a deposit. Many casino sites will have a minimum deposit amount, so always be prepared for this before you sign up. The average figure is €$£10 to €$£20, though some may go lower, but rarely.
There may even be an incentive for new users, for example, €$£50 of free bets if you deposit €$£50. Perhaps even a free spin casino bonus on a popular game.
Only deposit what you can afford to lose! You can also impose deposit limits for later deposits if you're worried about spending too much or just want to stick to a budget.
You can choose many different ways to deposit, from credit and debit cards to e-wallets and bank transfers.
Step 4: Pick slots to play
This is where the fun begins. The online slot you choose will depend on a variety of factors, including:
Your level of expertise
How much time you have
How high/low risk do you want to play
Bonus features
Any preference on themes, e.g. superheroes, ancient Egypt etc.
You'll also need to look out for the "vital statistics" such as slot Return to Player rating. This is always less than 100% as the casino needs to have the "house edge".
In short, it's an average measure of what you'll win back over time relative to what you stake. So if a game has an RTP of 97%, you'll likely win back £9.70 if you deposit £10. But this is over millions of spins, and some players may win your slice, or you win someone else's. That's how they work out the math in the big wins in slots.
For a detailed list of the biggest wins and bonus features, check out our unbiased slot reviews here.
A few of our favourite slots include:

Step 5: Read the paytable
You might have chosen a game based on what looks great, but have you checked out what you could win? The paytable is the comprehensive guide as to what you need to get to win the biggest prizes.
Of course, it's mostly down to luck and random number generators. You can't control how the reels will land, but you can see what you'll win, for example, based on the combination of symbols.
Take a look at this before you play so you know what symbols to focus on and whether it's a slot game with the kind of wins you are looking to get.
Does it have special symbols, features or bonus games? If you trigger them, what's the best way to get the most out of them? A good video slot paytable should give you a hint of this.
Get up to €$100 Bonus + 100 Free Spins
Get up to €$100 bonus cash in the GUTS bonus with 100 wager free spins on top
#AD 18+ New customers only. Wagering and Full T&Cs apply.
Step 6: Enter your stake
Your stake, or bet value, dictates how much money you'll spend on every spin. Some players like to try lots of small bets, preferably with lower volatility games, while others set a large stake hoping they'll hit a big multiplier.
How you play is up to your strategy, but always keep an eye on your casino balance to ensure you're not depleting your funds too quickly.
Alternatively, you can use the autoplay function to save you from hitting "spin", but again, keep a close eye on your bets and change your stake if you have to.
Once you've learnt how to manage your wallet, then you can look at trying some more basic slot strategies.
Step 7: Spin…and hope!
You're all prepped and ready to go. Now is the time to hit that spin button! Remember, you can walk away at any time. Simply withdraw the cash from your account or let it stay in there for the next time you log back in.
Some people like to play a long-term strategy, which is best for high volatility slots. These payout less often, but when they do, the prizes are likely to be large. Conversely, low volatility slots like Starburst pay out little and often, so they're great for a quick game if you're on the go.
Try to mix it up by playing a variety of games with different RTPs, volatility and themes.
You'll soon find your favourite and work out a strategy that helps you win the most prizes. Keep an eye on those funds and always look at the site's responsible gambling information if you're not sure.
Finally, if you don't know where to start, just ask us! Our casino blog has some great insights into the games you should play and how to play video slots online.
Alternatively, time to sign up for one of our tested and recommended casinos and get started. It's as easy as 1, 2, 3…7.
Try Your Luck at GUTS »
Get 200% Bonus up to €100 + 100 Free Spins on Conan Slot at GUTS casino - T&Cs Apply 18+ New Players Only