Make no mistake – playing a slot machine is pretty exciting. You're at the mercy of the reels and those little jewels, cherries and shamrocks. If total chance wasn't enough, there's another reason why they're so popular: all the great slot bonus features and the wonderful multipliers.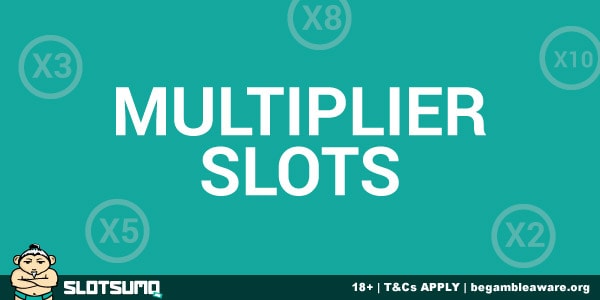 First things first: not all casino slots games offer this bonus feature, so be sure to read reviews before you step in. Multiplier slots, as the name suggests, give you the chance to increase your winnings significantly.
We're not just talking once, twice or three times. In some slots with multipliers, you could see up to 1,000 times your win – not bad for a few minutes of fun.
So, how do these multipliers work, and where can you find them?
How to spot a slot with multipliers
The best way to scope out any big winners is to check out an online review first. Look out for any mention of multipliers – at the very least they usually come up as a bullet point at the end of the review.
Next up, you need to learn how to make the most of those extra opportunities.
So you've picked a game with more bonuses than you can shake a stick at, now how do you win a multiplier on slot games?
Now you need to see how these bonuses appear. The most common ways are through symbols, bonus games or free spins.
Get 11 Free Spins + up to €$200 Bonus
Try Videoslots casino with 11 Free Spins and up to €$200 in bonus money on your first deposit
#AD 18+ New customers only. Wagering and Full T&Cs apply.
Matched symbols
You'll find these on what we call 'base play' slots. These are the simple rewards you get for matching up a certain number of symbols. The good news is, this is relatively easy to achieve, especially in slots with a low number of reels.
The bad news is, the winnings aren't as large – it's usually the value of the winning payline, for example, five symbols and a two times multiplier would equate to twice your winnings.
For something a little bit different, the Dragon's Fire slot gives you a multiplier on any progressive win.

Bonus symbols
For bigger wins, look out for 'wild' symbols. These will be listed in the game description, and can also act as a multiplier in addition to their other functions, like substituting non-matching symbols.
These wild symbols help you to create winning paylines and soon add up – for example, a three times wild multiplier appearing with two other symbols would win three times three (the matching symbols and its own tripling value). Nine times your payout without even trying!
Good examples of this include the Microgaming Mega Moolah slot and the Cleopatra 2 slots.
Scatter symbols
Another kind of bonus symbol, the scatter does not have to appear in the same payline, unlike wild symbols. It can appear anywhere on the reel and act as a multiplier.
This means your symbols can appear anywhere and still increase your winnings, plus, you might find a wild and a scatter at the same time. On some games, this is restricted to bonus rounds only.
Free spins
These are a lot of fun, and spice up traditional base play. You might win yourself a round of free spins. Within these, you may be asked to choose a multiplier from a hidden icon or it may simply be that all your wins will be multiplied because you've entered the bonus round. The best part, of course, is that you don't have to pay for these spins.
For example, you have the Mega Fortune slot which gives you a little bit of everything.

Bonus Games
Sometimes, you just get a mini-game where you get a multiplier on your bet. It's not a particularly clever way of getting multipliers, but you won't care when you get 100x your bet in a single spin of a wheel of fortune, or when you Leprechaun is bouncing across the screen.
Take a look at Vegas Diamonds review for example.
Points to Ponder
Not all multiplier slots are made equal. While the most traditional multipliers simply increase your wins, others might add to your line bets or total number of bets. Be sure to read up on this before you play to avoid over-spending.
Understand the symbols
Likewise, ensure you have an understanding of wild (can substitute symbols in a payline to produce a win) versus scatter symbols (can appear anywhere on the reels and help you win!). This might help you calculate how long you want to play, or what you can realistically expect to win.
Wins and bet multipliers
Here's another distinction to be aware of. In some cases, the multiplier might carry over into your winnings. In others, it might simply multiply the wager you placed on your spin – i.e. the amount you bet. Occasionally this means your winnings may actually be lower than your stake, so have a strategy in mind before you play.
20 Free Spins + up to €300 Bonus
Get 100% up to €300 in bonus on your first deposit plus 20 free spins on sign up at Casumo Casino
#AD 18+ New customers only. Wagering and Full T&Cs apply.
Be realistic
Yes, you could potentially win up to 5,000 times your payout, but this isn't going to happen every time. Realistically, your multipliers are more likely to be in single figures, particularly for base play games. Don't bet more than you can afford, assuming that you'll win back thousands of times your stake in just a few minutes.
Similarly, don't believe the myths. Slot machines are based on random number generators, so there's no way of knowing when the next big payout will be. If it's not paid out a jackpot in two days, doesn't mean it's going to happen for you – likewise, it might pay out two slot jackpots in two days.

Our best multiplier slots
Here's our favourite list of slots to play with multipliers:
Whatever you do, play with multipliers responsibly – they might just make your playing experience that much more fun.
Try Your Luck at Casumo »
20 Free Spins on Sign Up + 100% up to €300 First Deposit Bonus at Casumo casino - T&Cs Apply 18+ New Players Only