If you are looking at starting out playing on high-win slots, here are some basic strategies and tips to slot playing to will help you on your journey.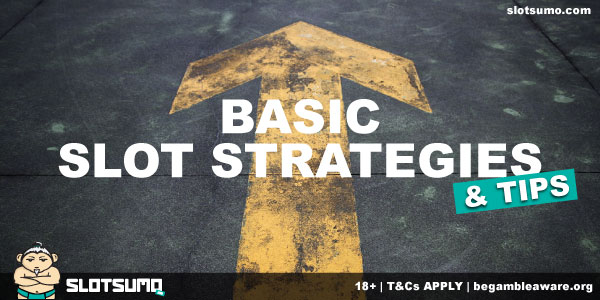 Are you new to the world of slot machines? You're not alone, and everybody has to start somewhere.
While all slot machines are fundamentally based around random number generators (this makes them fair and legal), there are basic slot strategies that could give you better results and prolong your enjoyment.
Here are some top tips.
Is there a strategy for slots?
Before you get started with slot machines, it's time to dispel a few myths:
Slot machines do not pay out at certain times of day
Slot machines do not pay out if they've not paid out in a while
Slot machines do not withhold payments if they've just awarded a jackpot
None of these "tips" will make you win any faster. For the best slot machine strategy, keep the following pointers in your mind.
From managing your money to spotting vital statistics, here are some of the best slot strategy tips to help you win better prizes.
1. Only bet what you can afford to lose
These might sound like wise words from your grandma, but they're true! Of course, there's more to it than just giving yourself a budget. To keep control of your spending, set yourself a loss limit and a win limit.
You can do this manually, or some operators will allow notifications when you have hit your upper winning limit. That way, you can really quit while you're ahead.
Get 11 Free Spins + up to €$200 Bonus
Try Videoslots casino with 11 Free Spins and up to €$200 in bonus money on your first deposit
#AD 18+ New customers only. Wagering and Full T&Cs apply.
If you want to be careful with your budget, you can look at the minimum bet. Some of these can go as low as 0.01 per spin but don't expect a huge return. These are ideal for beginners.
More seasoned players may prefer an autoplay function or high-limit slot games, but again, keep an eye on this to ensure your bankroll isn't dwindling too quickly.
2. Look for the vital statistics
Before heading into any new game, you should always do your homework. Two of the essential "specs" of any online slot are the RTP (Return to Player rate) and the volatility.
What is the Return to Player rate?
The Return to Player rate is calculated as a percentage, usually between 95% and 98%. You may have heard the phrase, "the house always wins". This is true, thanks to random number generators.
What it means is that, for whatever you bet, you should win this amount back. So, for example, if you bet €$£10 on a machine with a Return to Player rate of 97%, you should expect to win €$£9.70 back.
That's not how it works in the long term because your losses become someone else wins, and vice versa, which is how you get big winners and losers in casinos. Your best bet is to look for high RTP slots that will pay out more over its lifetime.

What is volatility in slot machines?
Slot machines come as one of three options or a mixture of two: low, medium and high volatility. This volatility (or variance) relates to how much they pay out and what you'll have to pay.
For example, a low volatility slot will pay out more often, but the prizes will statistically be smaller. With a high volatility slot, you'll have to wait much longer for a prize, but it will be far larger.
As such, you'll have to pick your slot based on your strategy – are you in it for the long haul or a quick win? If you are just starting out, it's best to look at some of the best low variance slots around.
3. Join loyalty clubs
Once you've picked a reputable online casino site, consider signing up for any loyalty rewards they may have.
This will give you more access to promotions such as free spins, or you might even get personalised offers tailored to you, for example, birthday offers specific to your favourite games.
You can build up your "points" and redeem them as cash prizes or play other games. Some of the better sites for this include Videoslots casino and Vera and John Casino.
4. Choose simple games for better odds
Often, the games that look the most exciting, for example, progressive jackpot slots or movie-branded games, maybe the least generous in terms of odds.
If you're only in it to win prizes rather than get a gamer's thrill, pick simpler games such as Rainbow Riches or Starburst. These may have fewer options for bonuses too, but they will pay out more often.

Understand the bonuses on slots and casinos
All slots offer some bonus, whether simple free spins, scatter symbols, wild symbols or multipliers.
Read up in the paytable exactly what symbols do what before you play. Make sure you understand all the slots terms so you know what to look out for and what you might like or not.
20 Free Spins + up to €300 Bonus
Get 100% up to €300 in bonus on your first deposit plus 20 free spins on sign up at Casumo Casino
#AD 18+ New customers only. Wagering and Full T&Cs apply.
The same is true of casino bonus offers and the T& Cs. You might find that the marketing material draws you in with the promise of free spins, only to discover that you need to bet X amount, or there is a limit on how much you can win or how much you can bet.
Always check over the terms and conditions before you play!
5. Picking a reputable casino
Beyond strategy, you should only ever play at a reputable, licensed casino or risk losing more than you bargained for.
Look for trust markers such as details of a licence in the website footer or references to organisations like the Gambling Commission, as well as good casino reviews with all the details of what each casino provides.
If you're unsure, check out our list of approved slot machine sites and providers and look around. Slotsumo.com is all about getting you the best high-paying slots with big impact and big wins on the best casinos around.
Try Your Luck at Casumo »
20 Free Spins on Sign Up + 100% up to €300 First Deposit Bonus at Casumo casino - T&Cs Apply 18+ New Players Only