We get it. You've landed on your favourite online slots and you just want to start playing. It's pretty exciting, but to get the best experience, you should do your homework first.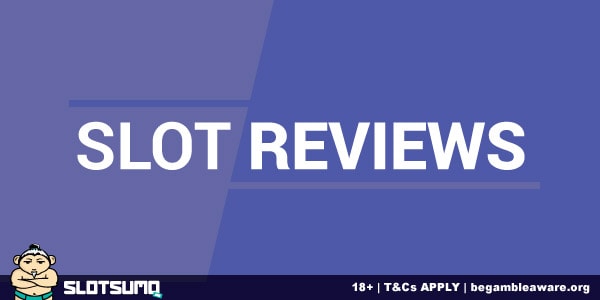 Online gambling is totally subjective for everyone. Some players prefer a quickfire round with lower bets. Others prefer drawn-out, strategic plays. The only way to match your playing style, and your budgets, is to read online slot reviews.
Here are a few nuggets of information you can take away from doing your research.
1. Find New Slot Releases
More of a seasoned player? We hear you. Reviews are the best place to get the latest updates on your favourite slot sites.
Often, developers will put a new spin on an old classic: for example, the Dragon's Fire slot and Dragon's Fire Megaways, both Red Tiger Gaming slots, but wonderfully different.
We're always keeping you updated with the latest slots – keep an eye on the "new" and "hot" icons or visit our new slots page for new games that are ready to play or upcoming ones.
2. RTP ratings
RTP, RNG, EVP…it can all get a bit confusing. The best slot reviews give you the clear-cut facts in terms of what you'll get back. One of the most important values in slots is the RTP rating.
Otherwise known as "Return to Player", this is listed as a percentage and tells you how much you'll win back based on a certain number of spins.
For example, with a 97 per cent RTP slot, you should expect to win back €$£9.70 for every £10 you spend, assuming you play long enough.
Having an idea of theoretical RTPs helps you set budgets and decide which games are worth your hard-earned cash.
Get 11 Free Spins + up to €$200 Bonus
Try Videoslots casino with 11 Free Spins and up to €$200 in bonus money on your first deposit
#AD 18+ New customers only. Wagering and Full T&Cs apply.
3. High or low volatility
Slot machines don't just vary with RTP. They can also be low, medium or high volatility slots.
The distinction is quite simple: if they're low volatility, you'll win more often, but in smaller payouts. In high volatility games, there's no constant dopamine hit of little wins. You'll have to play the long game and wait for that one big jackpot.
If you're just starting out and don't know what kind of playing style you prefer, read a casino game review.
It will give you an honest account of what your potential winnings might be, and crucially, what you might spend.
Read our guide to what is slot volatility to find out more.
4. Progressive Jackpots
Progressive jackpot slots clearly outline what's at stake when you play. The more people who play, the bigger the jackpot when one lucky person wins.
A slot review will give you more information on the potential top prize. It will also tell you the maximum winnings based on your stake – for example, "up to 1,000 times your initial stake".
This will help you pick the hottest game, depending on how risky you're feeling. Don't forget to brush up on the RTP and volatility too.
A few top progressive slots to take a look at are:
5. Bonus slot features
Modern slots have come a long way. No longer are we mindlessly watching the reels spin. Today's slots are themed, from brightly coloured diamonds to quests in ancient worlds.
These make for epic bonus rounds – you can guide characters, flex your tapping muscles or defeat evil bosses.
Reviews will tell you what kind of bonus features to expect, and how to unlock them. They'll also guide you on the bonus symbols to look out for.
For example, in slots with bonus games you might notice a wildcard or scatter symbol listed as a leprechaun. Keep your eyes peeled for the magic combos!
6. The gameplay experience
If you're into online slots, chances are, you're a keen gamer. Reviews will give you a better understanding of the user experience. Is it slow to load? Are the graphics on point? Can all the buttons be accessed easily?
Many of us play mobile slots on the go, so it's important to know which game will give you the best experience. Which leads us nicely to our next point.
Deposit €100 Play With €200 + 50 Free Spins
Get a free Wheel of Rizk bonus spin plus up to €100 bonus and 50 free spins on your first deposit
#AD 18+ New customers only. Wagering and Full T&Cs apply.
7. Device compatibility
Mobile casino users shot up by 10 per cent in 2018, and it's a trend that's constantly on the rise. This is why device compatibility is so important.
Whether you prefer a smartphone, tablet or desktop, a good review should tell you the compatible operating systems.
It may even give you gameplay tips, for example, if it's best for larger screens or how 'tap-friendly' a particular game might be.
8. Related games
After a while of gameplay, you might notice a fondness for a certain type. Maybe you love the enchanted wonderlands of Pixies of the Forest by IGT, or the laugh-a-minute of the Family Guy slot.
If your favourite slot is getting a bit samey, reviews will point you towards similar games. They may have the same theme, RTP rating or volatility. Whatever they are, they'll appeal to your taste.
And if that doesn't work you can always use our advanced slot search tool which lets you quickly and easily pick from one or more slot features like RTP, Volatility, Provider and number of Paylines.
9. Is it any good?!
We've put this last, but it's by no means least. When you sign up to an online casino, you're investing your hard-earned cash. You don't want to throw money away on a casino slot with minimal payouts or poor gameplay.
The slot reviews here on SlotSumo.com give you honest, easy-to-understand write-ups, complete with a star rating. Skim through to find a 5-star, or really do your research with all the essential stats.
Ready to get started? Time to start by browsing our website and finding the right game for you.